HeSVA - Helsinki Study of Very Low Birth Weight Adults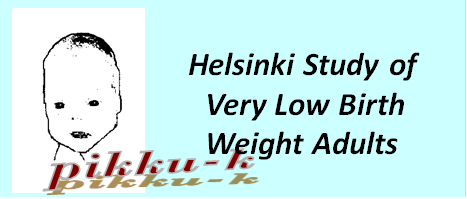 Very low birth weight (VLBW) infants born 1978 – 1985 were followed-up to study survival and neurosensory outcomes into adulthood. In 2004-2005, 166 VLBW (birthweight <1500g) and 172 control subjects, aged 18 to 27 years, (group-matched by age, sex and birth hospital) participated in a detailed clinical examination which included oral glucose tolerance test, 24-hour blood pressure, body composition by dual x-ray absorptiometry, endothelial function by flow-mediated dilatation, lymphocyte DNA (GWAS with Illumina OmniExpress 1.2 and EWAS with Illumina 450k), sleep by 3-day actigraphy and detailed questionnaires about physical activity, mental health, and personality. In 2005, 54 VLBW and 40 controls underwent a Trier Social Stress Test and 48-hour salivary cortisol measurement. In 2007-2008, 104 VLBW and 100 controls participated in a re-examination which included intravenous glucose tolerance test and a detailed neuropsychological assessment. Overall aim was to evaluate health and wellbeing of VLBW adults as compared to their term born peers.
Visit HeSVA
Acronym

HeSVA

Start Year

1978

Follow Up Is Ongoing

Year of Most Recent Data Collection

2008

New Data Collection planned?

Yes

Funding

European Commission (RECAP), Academy of Finland, Sigrid Jusélius Foundation, Foundation for Pediatric Research, Signe and Ane Gyllenberg Foundation, Päivikki and Sakari Sohlberg Foundation, Novo Nordisk Foundation, Finnish Diabetes Research Foundation, Cardiovascular Research Foundation
Access to external researchers or third parties provided or foreseen.
Data (questionnaire-derived, measured...)

Biosamples

Other access
Study design

Cohort

Number of Data Collection Events

6

Number of very preterm (VPT) and/or very low birthweight (VLBW) births included in cohort (live & still births)

335
Hovi P, Andersson S, Eriksson JG, et al. Glucose regulation in young adults with very low birth weight. N Engl J Med. 2007;356:2053-2063.
PUBMED 17507704
HeSVA Cohort
The HeSVA population comprises 335 VLBW infants born 1978-1985 and discharged alive from neonatal intensive care unit (NICU) at Children's Hospital in Helsinki, which is the only NICU serving a geographically defined area (province of Uusimaa).
Selection Criteria
Countries

Geographical Area

Uusimaa

VPT/VLBW Group Inclusion Criteria

All infants born at < 1500g discharged alive from the NICU at Children's Hospital in Helsinki between 1978 and 1985.

Control Group Inclusion Criteria

Control subjects were group-matched by age, sex and birth hospital. They had to be singleton, term born and not SGA (Birth weight SDS not < -2.0 according to current Finnish criteria (Pihkala J 1989, Duodecim).

VPT/VLBW Group Exclusion Criteria

Death before discharge from NICU. Lived more than 110 km away from Helsinki in 2004.

Control Group Exclusion Criteria

Lived more than 110 km away from Helsinki in 2004.
Data Collection Events
#
Name
Description
Start
End
0
Perinatal Assessment
Perinatal assessment included collection of data from medical records on maternal medical and obstetric history, conditions during pregnancy, maternal smoking during pregnancy, infant ...
1978
1985
1
15 Month Follow Up
1979
1979
2
5 Year Follow Up
1983
1990
3
18-27 Year Follow Up
At an average age of 22 years (18-27 years), participants underwent a full clinical and neuropsychological assessment.

Prior to the clinic visit, participants completed questionnaires on ...
2004-03
2005-04
4
20-29 Year Follow Up
At an average age of 23 years (20-29 years), a subset of participants was randomly selected from those who attended the first clinic visit. These participants took part in a stress test including ...
2005-06
2005-11
5
22-30 Year Follow Up
At an average age of 25 years (22-30 years), the full cohort was invited for a clinic visit. The participant underwent a clinical examination to assess anthropometric measurements and blood ...
2007-03
2008-04