There are two types of studies presented here:
● An individual study - any epidemiological study (e.g. cohort, case control, cross sectional, etc.) conducted to better understand the distribution and determinants of health and disease.
● A harmonisation study - a research project harmonizing data across individual studies to answer specific research questions.
Acronym
Name
Description
Type
ACTION
Accesso alle Cure e Terapie Intensive Ostetrico Neonatali (Access to Obstetrical and Neonatal Intensive Care)
The ACTION cohort is a prospective area-based cohort started in 2003 in six Italian regions, ...
Individual
AYLS
Arvo Ylppö Longitudinal Study
The AYLS is the Finnish arm of the Bavarian-Finnish Longitudinal Study. The original ...
Individual
BEST/BLS
Bavarian Longitudinal Study Cohort
Phase I (1984-1990)
Four assessments (1985-1990) were carried out daily during the neonatal ...
Individual
DNBC
Danish National Birth Cohort / Better Health in Generations
Exposures in the period from conception to early childhood - including fetal growth, cell ...
Individual
EFGR in very preterm infants
Extreme Fetal Growth Restriction in very preterm infants
- Describe the prevalence and risk factors of infants with extremely severe fetal growth ...
Harmonisation
UA_EPIBEL
Antwerp University EPIBEL
The original aim of the EPIBEL study was to determine mortality and morbidity at discharge from ...
Individual
EPICE
Effective Perinatal Intensive Care In Europe
The EPICE project explored the use of evidence based practices for the care of very preterm ...
Individual
EPICE-PT
Effective Perinatal Intensive Care in Europe - Portugal
As part of the "Effective Perinatal Intensive Care in Europe" (EPICE) project, this cohort was ...
Individual
EPICure
EPICure
The aim of the EPICure Study is to determine survival rates and long term health, developmental, ...
Individual
EPICure 2
EPICure 2
EPICure 2 is a population study of health and development after birth before 27 weeks of ...
Individual
EPIPAGE 1
Étude épidémiologique sur les petits âges gestationnels
The EPIPAGE 1 study aimed to assess the outcome of very preterm (VPT) babies, to identify early ...
Individual
EPIPAGE 2
Étude épidémiologique sur les petits âges gestationnels
The EPIPAGE 2 study aims: 1. to describe short- and long-term outcomes in very and moderately ...
Individual
EPT RECAP
A comparative analysis of extremely preterm birth cohorts in Europe participating in the RECAP consortium
#### Objectives: 1. Identify similarities and differences between European birth cohorts that ...
Harmonisation
EST 2002-2003
EST 2002-2003 ELBWI, <29GW at 5y
The aim of the study was to follow-up a population-based cohort of Extremely Low Birth Weight ...
Individual
EST 2007-2008
Very low gestational age infants born in Estonia in 2007-2008
The aims of the conducted studies were to describe short-term and long-term outcome and health ...
Individual
ESTER
Preterm Birth and Early Life Programming of Adult Health and Disease
The ESTER study focuses on preterm birth at any gestational age and maternal hypertension in ...
Individual
ETFOL
Treatment of extremely preterm infants: parents attitudes
The ETFOL study is a prospective national follow up study of extremely preterm (EPT) babies born ...
Individual
EXPRESS
Extremely Preterm Infants in Sweden Study
The EXPRESS Study (Extremely Preterm Infants in Sweden Study) is comprised of a group of ...
Individual
GNN
German Neonatal Network
The German Neonatal Network (GNN) started patient enrolment on January the 1st 2009. The network ...
Individual
HAPP-e
Health of Adult People born Preterm – an e-cohort study
The overall objective of this study was to assess the feasibility of recruiting and following up ...
Individual
HeSVA
Helsinki Study of Very Low Birth Weight Adults
Very low birth weight (VLBW) infants born 1978 – 1985 were followed-up to study survival and ...
Individual
NTNU LBW Life
NTNU Low Birth Weight in a Lifetime Perspective Study
The NTNU Low Birth Weight in a Lifetime Perspective Study (NTNU LBW Life) comprises a group of ...
Individual
PEP
Project Extreme Prematurity
The purpose of Project Extreme Prematurity (PEP) is to study short- and long-term health and ...
Individual
PIPARI
Development and Functioning of Very Low Birth Weight Infants from Infancy to School Age
PIPARI project (Development and Functioning of Very Low Birth Weight Infants from Infancy to ...
Individual
POPS
Project On Preterm and Small for gestational age infants
The original POPS-cohort is a multi-center cohort of 1338 very preterm (<32 completed weeks of ...
Individual
RECAP-Registers
RECAP Preterm Nordic Registers
Data on all births in Norway, Sweden, Finland, and Denmark is recorded within Medical Birth ...
Individual
WP9_Harmonised adult outcomes
Adult outcomes of Very Preterm (VPT) and/or Very Low Birth Weight (VLBW) of European cohorts participating in the RECAP Preterm consortium
#### Objectives: 1. To compare major outcomes, such as physical and mental health, quality of ...
Harmonisation
ACTION
Accesso alle Cure e Terapie Intensive Ostetrico Neonatali (Access to Obstetrical and Neonatal Intensive Care)
Study design:

Cohort

Number of very preterm (VPT) and/or very low birthweight (VLBW) births included in cohort (live & still births):

2493
AYLS
Arvo Ylppö Longitudinal Study
Study design:

Cohort

Number of very preterm (VPT) and/or very low birthweight (VLBW) births included in cohort (live & still births):

1535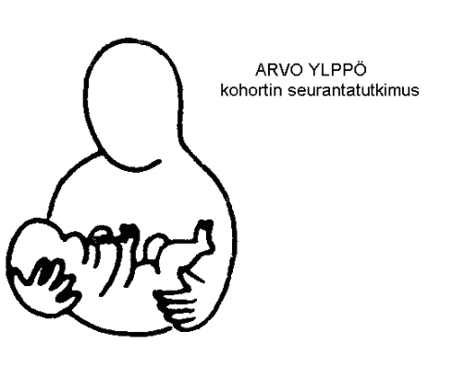 BEST/BLS
Bavarian Longitudinal Study Cohort
Study design:

Cohort

Number of very preterm (VPT) and/or very low birthweight (VLBW) births included in cohort (live & still births):

682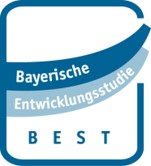 DNBC
Danish National Birth Cohort / Better Health in Generations
Study design:

Cohort

Number of very preterm (VPT) and/or very low birthweight (VLBW) births included in cohort (live & still births):

96834

EFGR in very preterm infants
Extreme Fetal Growth Restriction in very preterm infants
UA_EPIBEL
Antwerp University EPIBEL
Study design:

Cohort

Number of very preterm (VPT) and/or very low birthweight (VLBW) births included in cohort (live & still births):

525
EPICE
Effective Perinatal Intensive Care In Europe
Study design:

Cohort

Number of very preterm (VPT) and/or very low birthweight (VLBW) births included in cohort (live & still births):

10329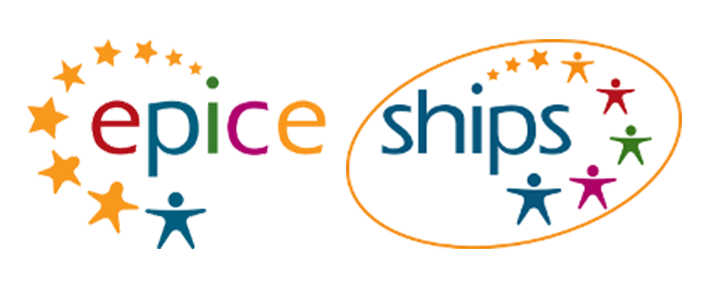 EPICE-PT
Effective Perinatal Intensive Care in Europe - Portugal
Study design:

Cohort

Number of very preterm (VPT) and/or very low birthweight (VLBW) births included in cohort (live & still births):

974

Number of term-born control births included in cohort (live & still births):

0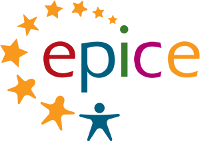 EPICure
EPICure
Study design:

Cohort

Number of very preterm (VPT) and/or very low birthweight (VLBW) births included in cohort (live & still births):

4004

EPICure 2
EPICure 2
Study design:

Cohort

Number of very preterm (VPT) and/or very low birthweight (VLBW) births included in cohort (live & still births):

3133

EPIPAGE 1
Étude épidémiologique sur les petits âges gestationnels
Study design:

Cohort

Number of very preterm (VPT) and/or very low birthweight (VLBW) births included in cohort (live & still births):

3581
EPIPAGE 2
Étude épidémiologique sur les petits âges gestationnels
Study design:

Cohort

Number of very preterm (VPT) and/or very low birthweight (VLBW) births included in cohort (live & still births):

5170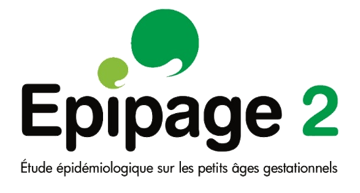 EPT RECAP
A comparative analysis of extremely preterm birth cohorts in Europe participating in the RECAP consortium
EST 2002-2003
EST 2002-2003 ELBWI, <29GW at 5y
Study design:

Cohort

Number of very preterm (VPT) and/or very low birthweight (VLBW) births included in cohort (live & still births):

80
EST 2007-2008
Very low gestational age infants born in Estonia in 2007-2008
Study design:

Cohort

Number of very preterm (VPT) and/or very low birthweight (VLBW) births included in cohort (live & still births):

360
ESTER
Preterm Birth and Early Life Programming of Adult Health and Disease
Study design:

Cohort

Number of very preterm (VPT) and/or very low birthweight (VLBW) births included in cohort (live & still births):

397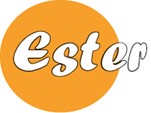 ETFOL
Treatment of extremely preterm infants: parents attitudes
Study design:

Cohort

Number of very preterm (VPT) and/or very low birthweight (VLBW) births included in cohort (live & still births):

477
EXPRESS
Extremely Preterm Infants in Sweden Study
Study design:

Cohort

Number of very preterm (VPT) and/or very low birthweight (VLBW) births included in cohort (live & still births):

1011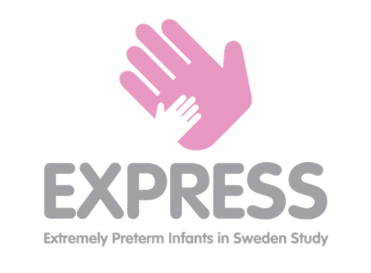 GNN
German Neonatal Network
Study design:

Cohort

Number of very preterm (VPT) and/or very low birthweight (VLBW) births included in cohort (live & still births):

15825
HAPP-e
Health of Adult People born Preterm – an e-cohort study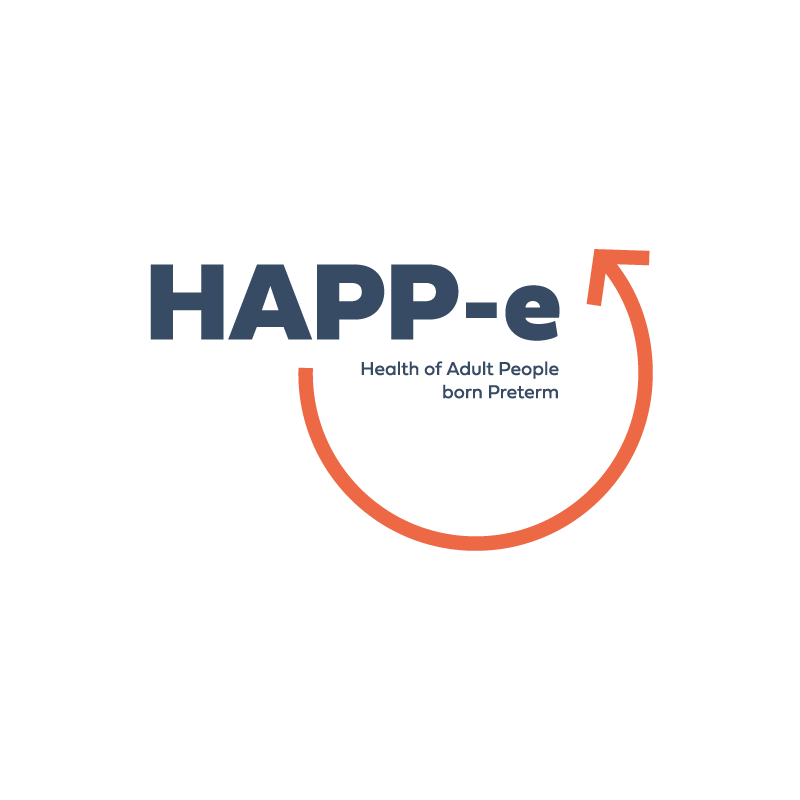 HeSVA
Helsinki Study of Very Low Birth Weight Adults
Study design:

Cohort

Number of very preterm (VPT) and/or very low birthweight (VLBW) births included in cohort (live & still births):

335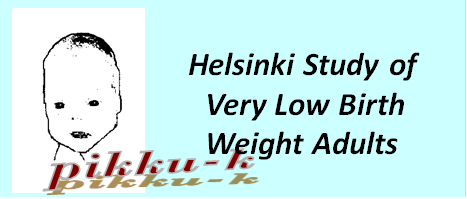 NTNU LBW Life
NTNU Low Birth Weight in a Lifetime Perspective Study
Study design:

Cohort

Number of very preterm (VPT) and/or very low birthweight (VLBW) births included in cohort (live & still births):

121

PEP
Project Extreme Prematurity
Study design:

Cohort

Number of very preterm (VPT) and/or very low birthweight (VLBW) births included in cohort (live & still births):

636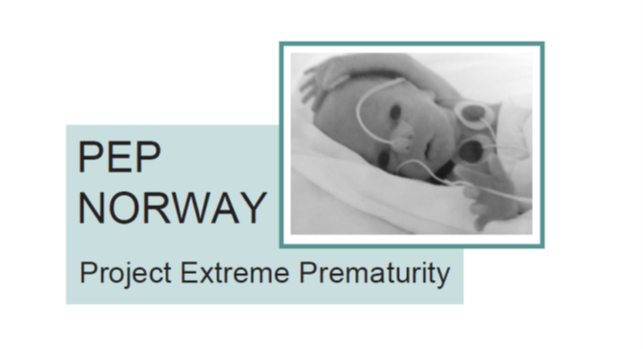 PIPARI
Development and Functioning of Very Low Birth Weight Infants from Infancy to School Age
Study design:

Cohort

Number of very preterm (VPT) and/or very low birthweight (VLBW) births included in cohort (live & still births):

255

Number of term-born control births included in cohort (live & still births):

188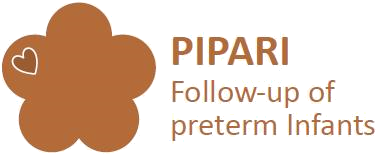 POPS
Project On Preterm and Small for gestational age infants
Study design:

Cohort

Number of very preterm (VPT) and/or very low birthweight (VLBW) births included in cohort (live & still births):

1336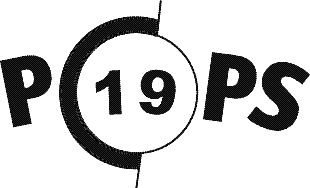 RECAP-Registers
RECAP Preterm Nordic Registers
Study design:

Other : Register

Number of very preterm (VPT) and/or very low birthweight (VLBW) births included in cohort (live & still births):

100000

Number of term-born control births included in cohort (live & still births):

9700000
WP9_Harmonised adult outcomes
Adult outcomes of Very Preterm (VPT) and/or Very Low Birth Weight (VLBW) of European cohorts participating in the RECAP Preterm consortium