PEP - Project Extreme Prematurity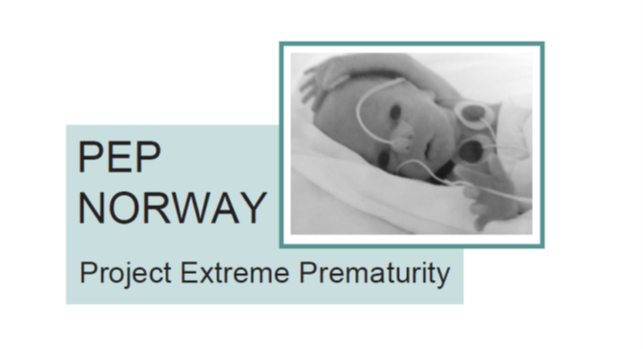 The purpose of Project Extreme Prematurity (PEP) is to study short- and long-term health and well-being in children born extremely prematurely. As survival after extremely preterm (EPT) birth now is the rule rather than the exception, also for those born at extremely low birth weight, we need to know how these children are doing as they grow up to be youth and adults. Such knowledge is imperative, to improve treatment in pregnancy, in the neonatal period and later, and could be used to better facilitate optimal outcomes for the children and their families through life.

PEP is a national, prospective, population based, observational study. We follow all children born in Norway in 1999-2000, with a gestational age lower than 28 weeks (extremely preterm) or a birth weight lower than 1000 gram (extremely low birth weight). All examinations rest on written informed consents from parents or guardians.
Visit PEP
Acronym

PEP

Start Year

1999

Follow Up Is Ongoing

Year of Most Recent Data Collection

2012

New Data Collection planned?

Yes

Funding

Western Norway Health Authority
Access to external researchers or third parties provided or foreseen.
Data (questionnaire-derived, measured...)

Biosamples

Other access
Study design

Cohort

Number of Data Collection Events

5

Number of very preterm (VPT) and/or very low birthweight (VLBW) births included in cohort (live & still births)

636

Supplementary information about number of participants

636 children born 1999-2000 at GA < 28 weeks or BW 500-999 gram.
174 stillborn, two children (guardians) declined participation.
464 admitted to a NICU.
86 died in NICU.
376 discharged from the NICU.
Three died after discharge from the NICU.
Markestad T, Kaaresen PI, Ronnestad A, Reigstad H, Lossius K, Medbo S, Zanussi G, Engelund IE, Skjaerven R, Irgens LM. Early death, morbidity, and need of treatment among extremely premature infants. Pediatrics. 2005;115(5):1289-98
PUBMED 15867037
PEP Cohort
Population based cohort, all extremely preterm births in Norway 1999-2000.
Selection Criteria
Countries

Geographical Area

All of Norway

VPT/VLBW Group Inclusion Criteria

Extremely preterm birth (gestational age <28 completed weeks of gestation or birthweight <1000 grams).

Control Group Inclusion Criteria

none

VPT/VLBW Group Exclusion Criteria

none

Control Group Exclusion Criteria

none

Supplementary Information

Control group included in subcohort study at 11 year follow up.
Data Collection Events
#
Name
Description
Start
End
0
Perinatal Assessment
Perinatal data were collected by a local neonatologist investigator using standardised forms and were compared to the information submitted to the Medical Birth Register of Norway. Data were ...
1999
2000
1
2 Year Follow Up
At 2 years of age, participants were examined by a pediatrician at a local pediatric department and parents completed questionnaires. A clinical examination was performed including anthropometric ...
2001
2002
2
5 Year Follow Up
At 5 years of age, the participants were assessed by a pediatrician, psychologist and physiotherapist at a local pediatric department and parents completed questionnaires.

Participants ...
2004
2005
3
11 Year Follow Up
At 11 years of age, the parents and teachers completed questionnaires about the participant.

Parents completed questionnaires similar to those at 5 years on hospital admissions, ...
2010
2012
4
11 Year Follow Up (Subcohort)
At 11 years of age, participants in Western Norway (approximately 20% of the cohort) took part in an additional subcohort study together with matched controls.

Participants underwent a ...
2010
2012